21 Sep

Globalvision launches new aerial 360° « Streetview » technology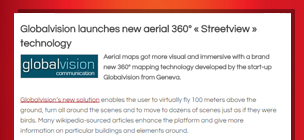 Aerial maps got more visual and immersive with a brand new 360° mapping technology developed by the start-up GlobalVision from Geneva.
GlobalVision's new solution enables the user to virtually fly 100 meters above the ground, turn all around the scenes and to move to dozens of scenes just as if they were birds. Many wikipedia-sourced articles enhance the platform and give more information on particular buildings and elements around.
2014-09-21