27 Aug

The best Swiss entrepreneurial quotes of the Year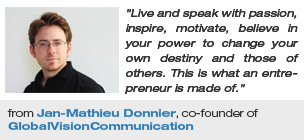 Venturelab: Congrats Jan-Mathieu, you just won our contest. Could you please tell us more about you and your company?
GlobalVision Communication is an agency offering professional services in 360° imagery and aerial images for mapping and technical projects. I am the co-founder of the company and a former Venture Leader (2011).
Venturelab: What motivated you to participate to this contest?
It is important to share experience with other entrepreneurs and make all possible efforts to encourage Swiss startups. I feel lucky achieving one of my dreams and sure enough I want to spread the word: entrepreneurship is awesome!
2014-08-27